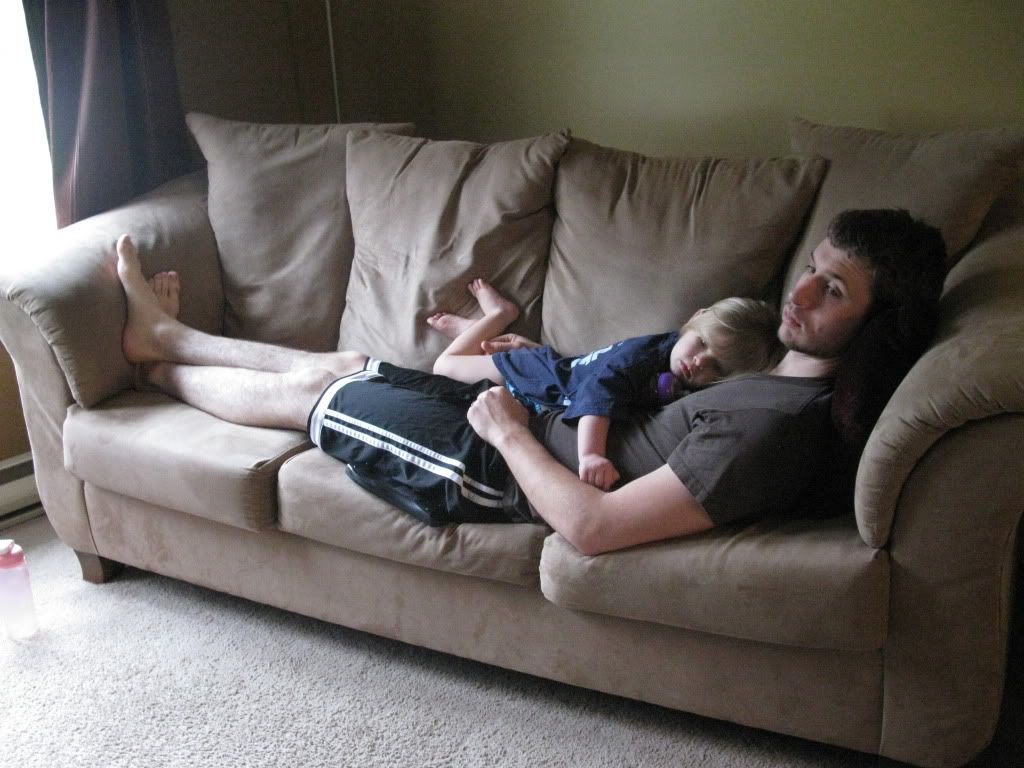 This picture is a perfect example of the calm before the storm of a weekend we had. This past weekend was "Uncle Tony's WEDDING!" I think Molly has been screaming that for two weeks now. She was pumped. We'd been talking it up for awhile to her, because she was going to be the flower girl in the wedding and I was hoping she's perform.
Marshal took the Friday off, so we had a really nice calm morning. I can't remember the last time The Big Marsh took off work. We slept in. I slowly packed. I showered. It was great and the party of a weekend hadn't even begun.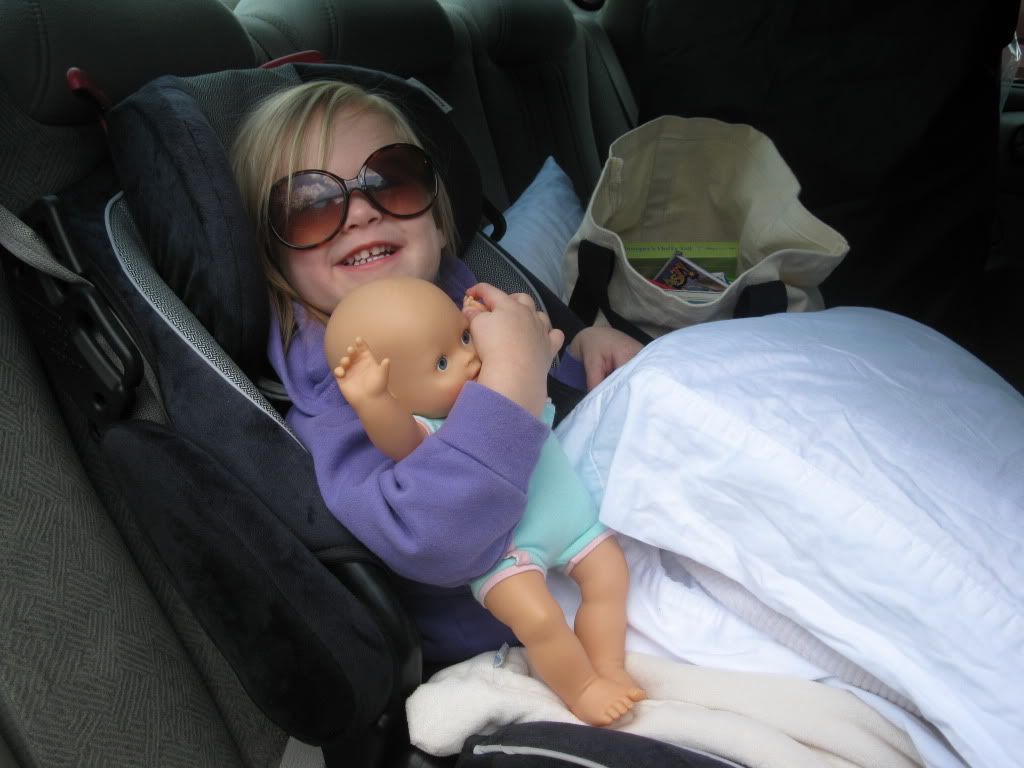 The wedding was in Cincinnati, so we loaded up the car for two days and hit the road. Molly was fully prepared. We had books. We had baby dolls and pillows and blankets. There were all sorts of toys and snacks, but.....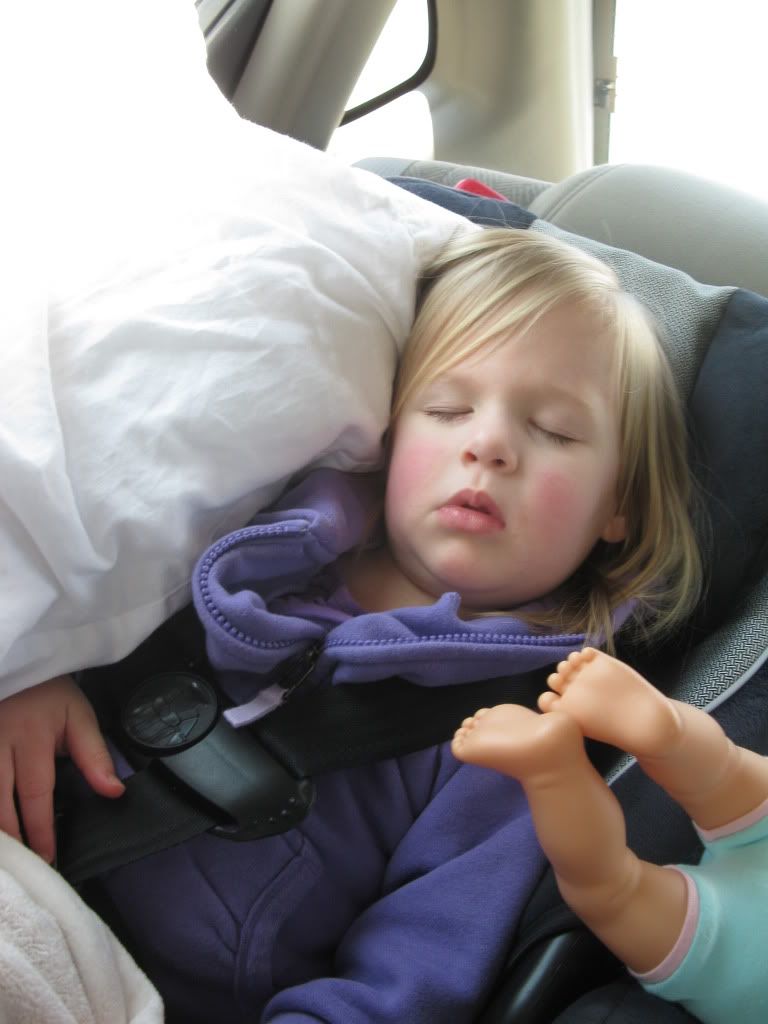 ...ten minutes down the road and Molly was out. She slept the whole way.
Later that evening, we went to the rehearsal. Of course, Molly was super duper uncooperative and decided flying like a birdy was way more fun than doing anything that I asked her.
But I can dig. Sometimes when I see a long piece of sidewalk, I get the urge to spread my arms and run like a mad lady too.
She got whatever she needed to out during the rehearsal, because when it came down to game time she performed perfectly. I truly couldn't have asked for more.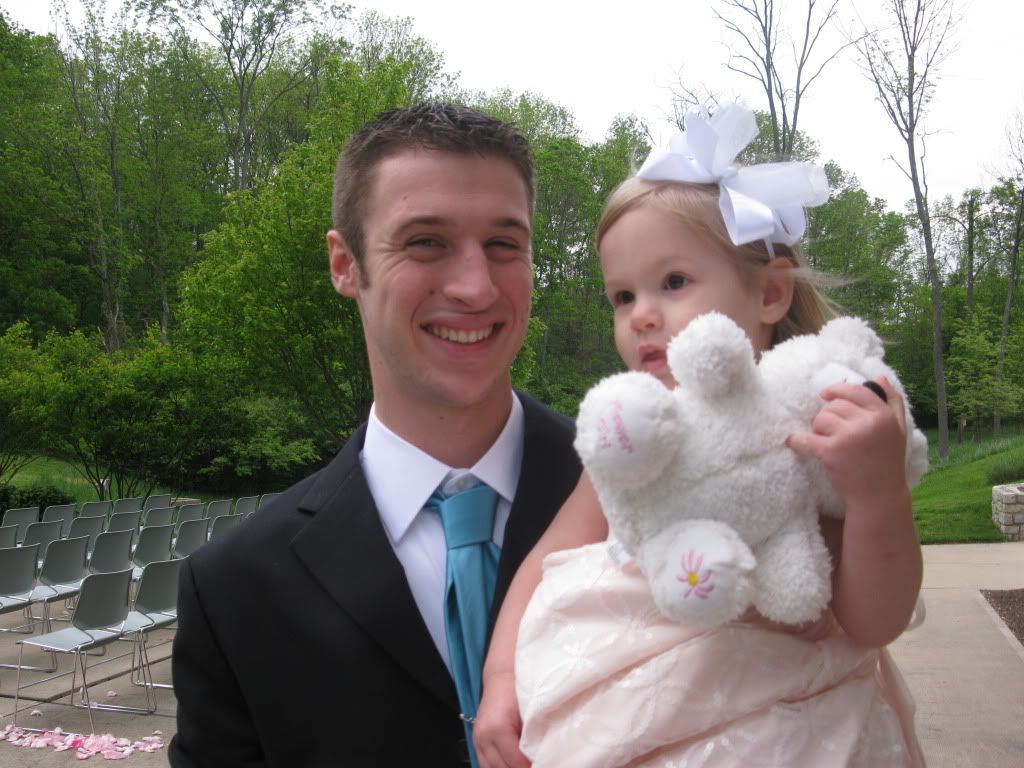 A minute before the wedding ceramony began, I left Molly with the bridesmaids to find a seat. I was nervous. I was terrified. I just begged that I wouldn't hear her crying from inside, not wanting to wait her turn or cooperate or being afraid because I wasn't there. But all of my nerves vanished the minute I saw her walking through the door and around the corner to come find me after all the bridesmaids had walked the isle. She looked a little confused until her eyes met mine. Then she knew where to go. As she walked closer to me I waved her on to her daddy, waiting at the alter next to the groom. Molly went running down the isle with little pink flower petals flying madly from her basket to meet her daddy. It was perfect.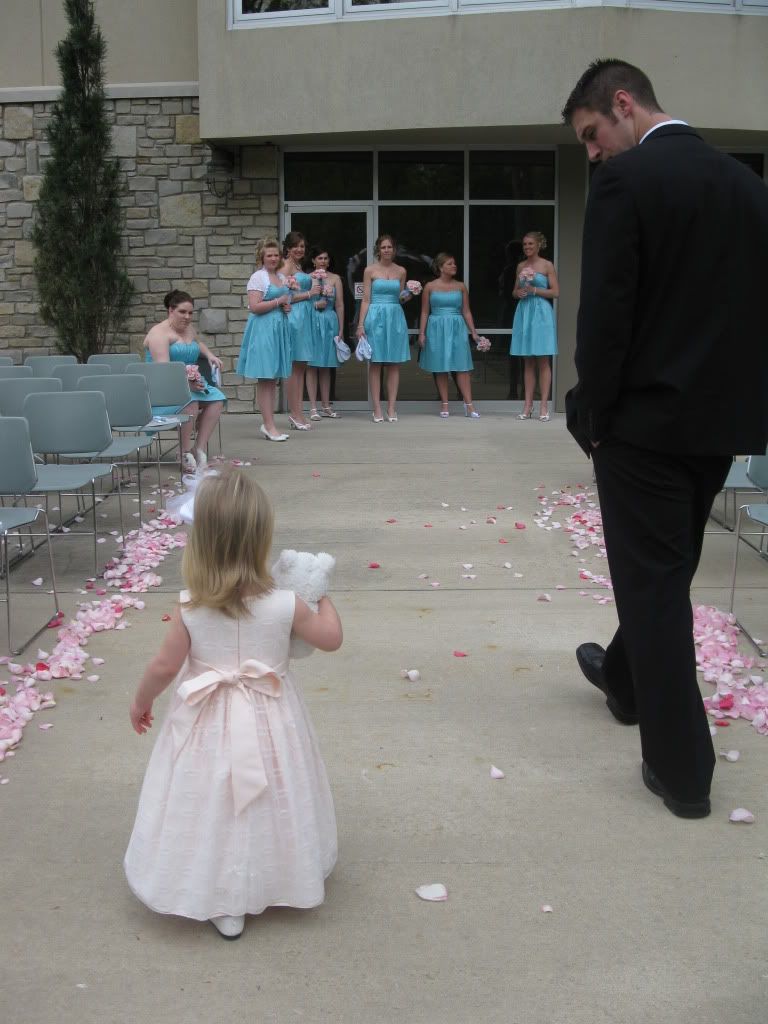 I was so proud. I was surprised at how much seeing her walking out the door and down the isle made me so emotional. The only way I could explain the tears streaming down my cheeks was because of how proud I felt. She had done it all on her own, without me.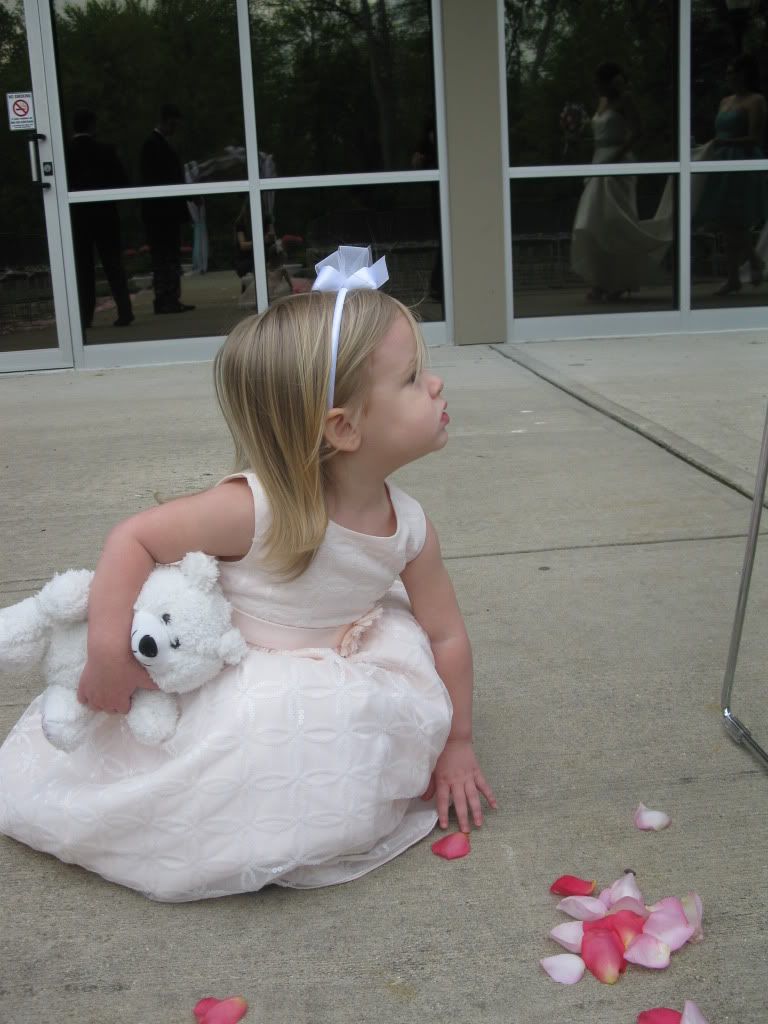 I know there will be many more of these moments in my life when my heart is so full that it bursts and overflows into tears down my cheeks. I never ever could have imagined how this love effects me. I never could have imagined what it would be like to be that proud, that happy.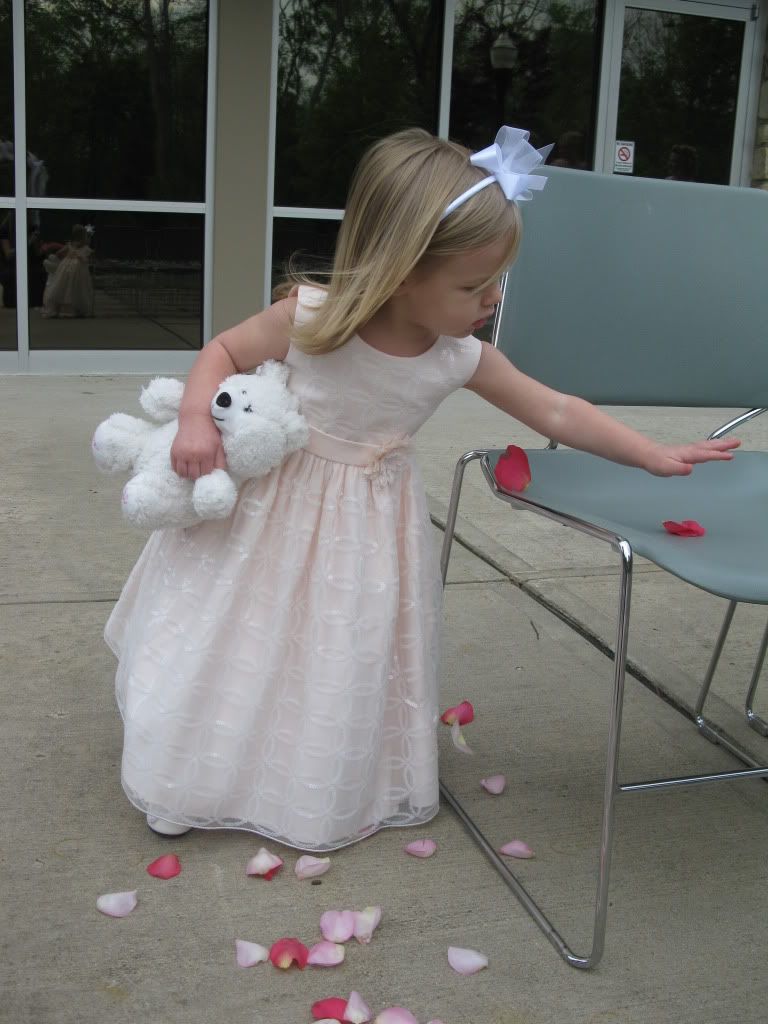 I look forward to sharing this story with her when she gets older. I love that I can tell her how her father's face beamed with pride when she came running down the isle to get to his side. And I know her Uncle Tony will remind her how much it meant to him to have his Godchild in his wedding.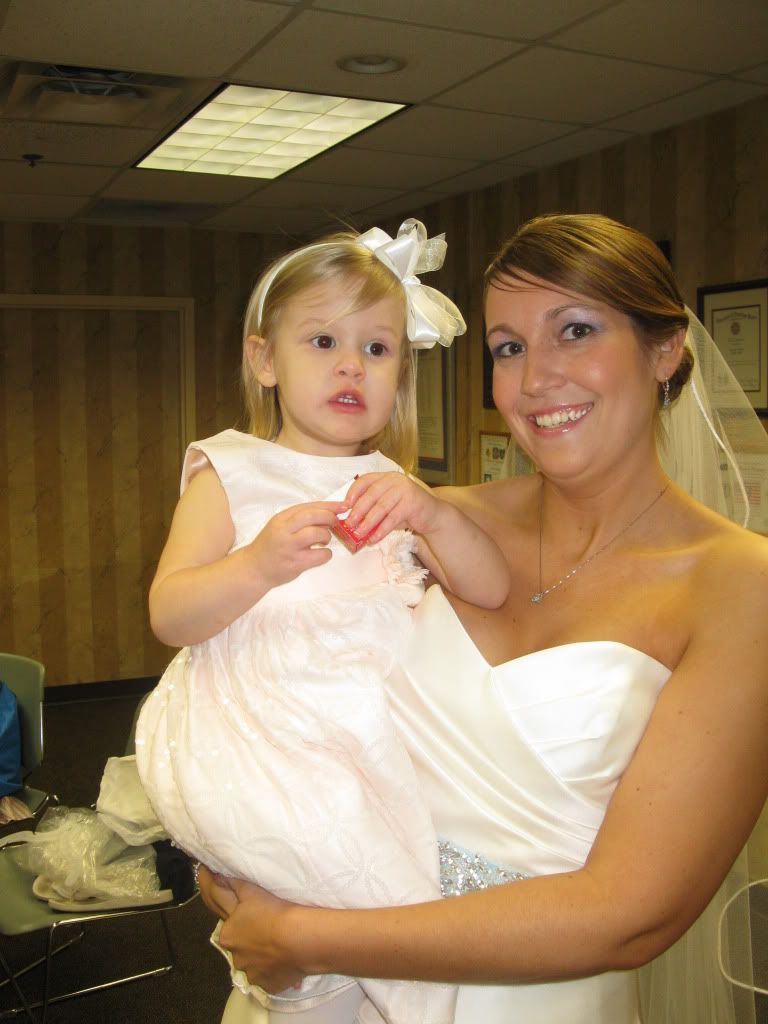 Molly with my new sister-in-law.
During dinner, I thought Molly looked so cute with her napkin tied around her neck, holding onto her water cup.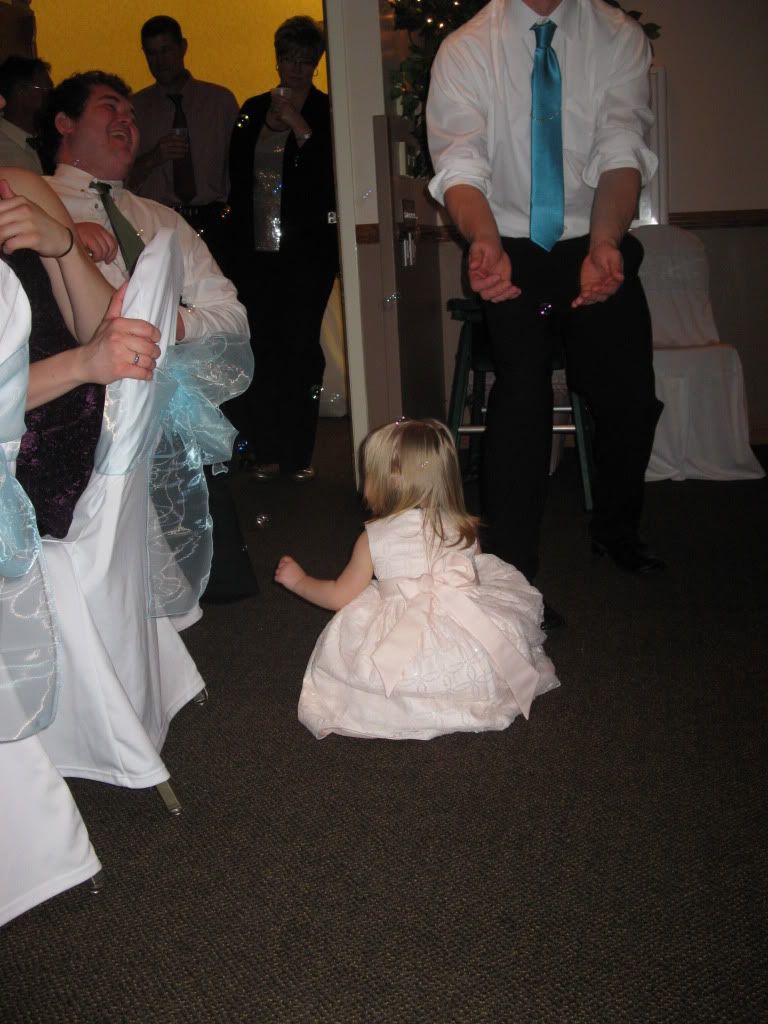 I don't know who the bubbles were entertaining more, Marshal or Molly.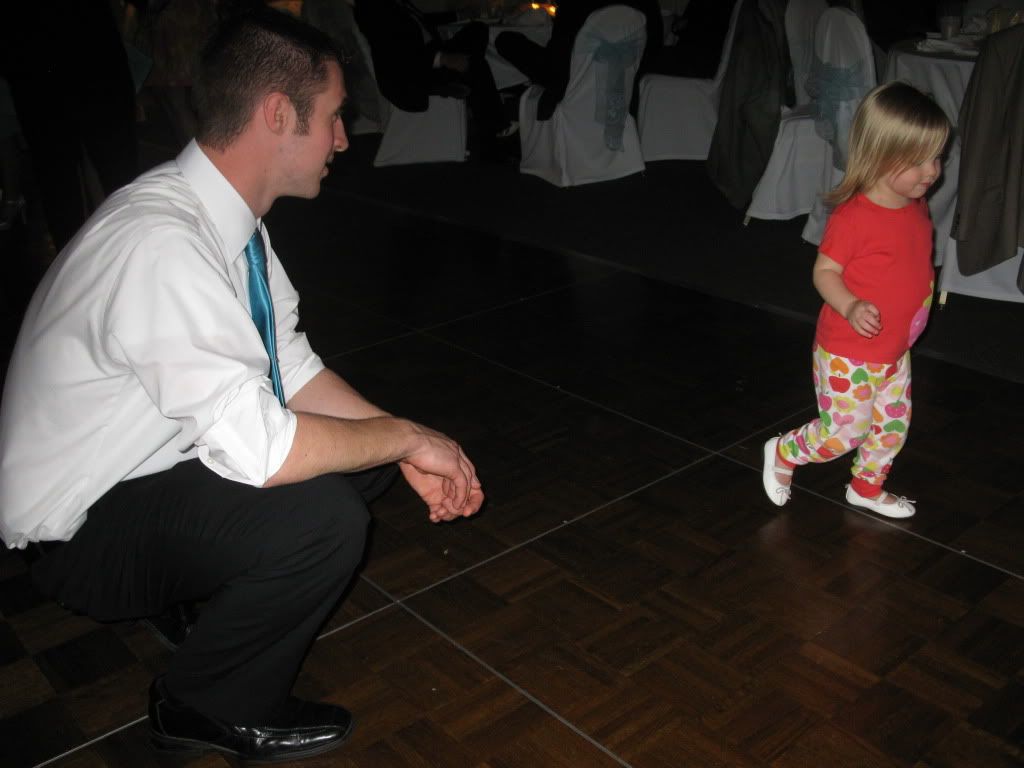 Later in the evening, I changed Molly into jammies so she could tear it up on the dance floor without tearin' up her dress.
I think she would have stayed on the dance floor all night if I hadn't intervened and scooped her away to give the tipsy partiers a little more space. We found a lovely chair a little further away from the speakers where Molly collapsed onto my lap and fell asleep.
It really was a wonderful weekend spent with family and friends. I'm so lucky to have all these loving people in my child's life!
~Margaret