Today I woke up and my feet are still swollen from the day before, dinner dishes didnt' get done last night, and I'm tired from Molly frequently waking up last night, but it's okay because yesterday evening I heard the healthy, strong beat of a tiny heart that I am already so in love with....
Best Chocolate Chip Cookies
I chose this recipe for today, first of all, because yesterday's brownie blunder is still too fresh in my mind and I don't feel like being adventurous and, second, I've really been craving a good cookie lately. Cookies also freeze really well and can easily be pulled out and thawed on short notice, say when you come to visit me ;). This recipe is from allrecipes.com. The recipe hails the title of being the Best and truly deserves it. I never stray from this recipe and I've been using it for years now.
Ingredients
1 cup butter, softened
1 cup white sugar
1 cup packed brown sugar
2 eggs
2 teaspoons vanilla extract
3 cups all-purpose flour
1 teaspoon baking soda
2 teaspoons hot water
1/2 teaspoon salt
2 cups semisweet chocolate chips
1 cup chopped walnuts
Directions
Preheat oven to 350 degrees F (175 degrees C).

Cream together the butter, white sugar, and brown sugar until smooth. Beat in the eggs one at a time, then stir in the vanilla. Dissolve baking soda in hot water. Add to batter along with salt. Stir in flour, chocolate chips, and nuts. Drop by large spoonfuls onto ungreased pans.

Bake for about 10 minutes in the preheated oven, or until edges are nicely browned.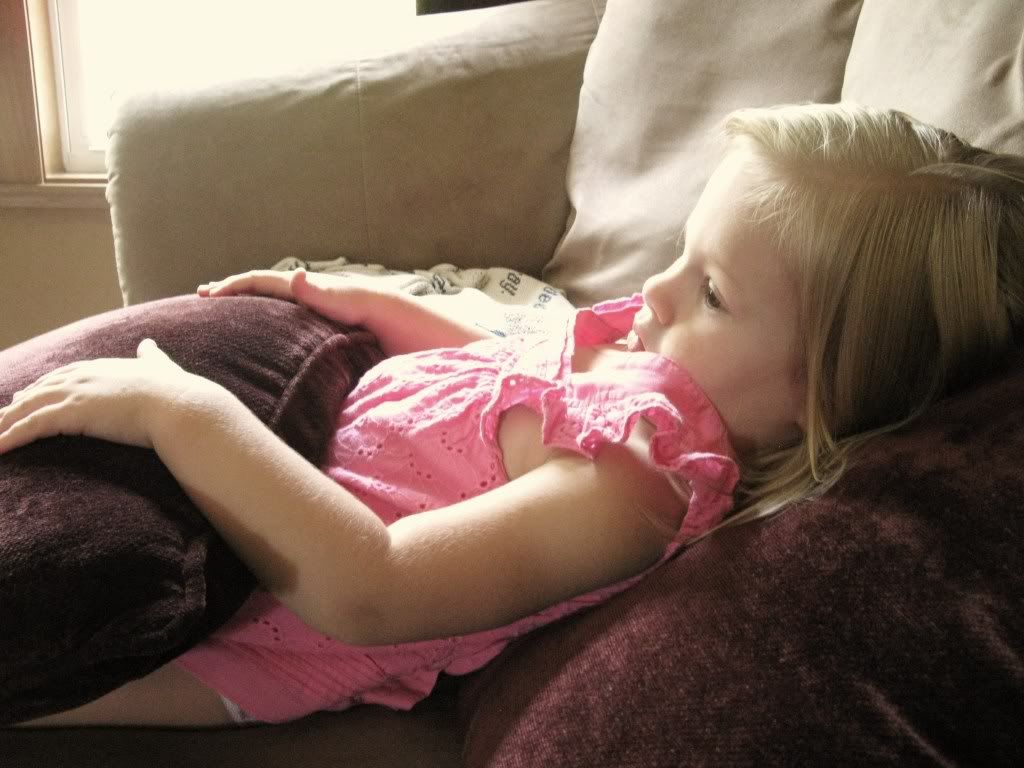 Molly chose the couch and Max and Ruby over helping me in the kitchen today, which was probably for the best since she's known to be quite the chocolate chip swiper.
This time I'm using Ghirardelli Classic White Baking Chips, because it takes a great chocolate chip cookie and turns it absolutely decadent. Also, I don't add chopped walnuts. I rarely use nuts when baking probably because my brother was allergic to nuts growing up and I guess I'm just programmed to leave them out. The biggest difference I could find in this recipe compared to other cookie recipes is the step when you dissolve baking soda in hot water before adding it to the batter. It really creates a beautiful, plump cookie that is crispy on the edges but chewy in the middle.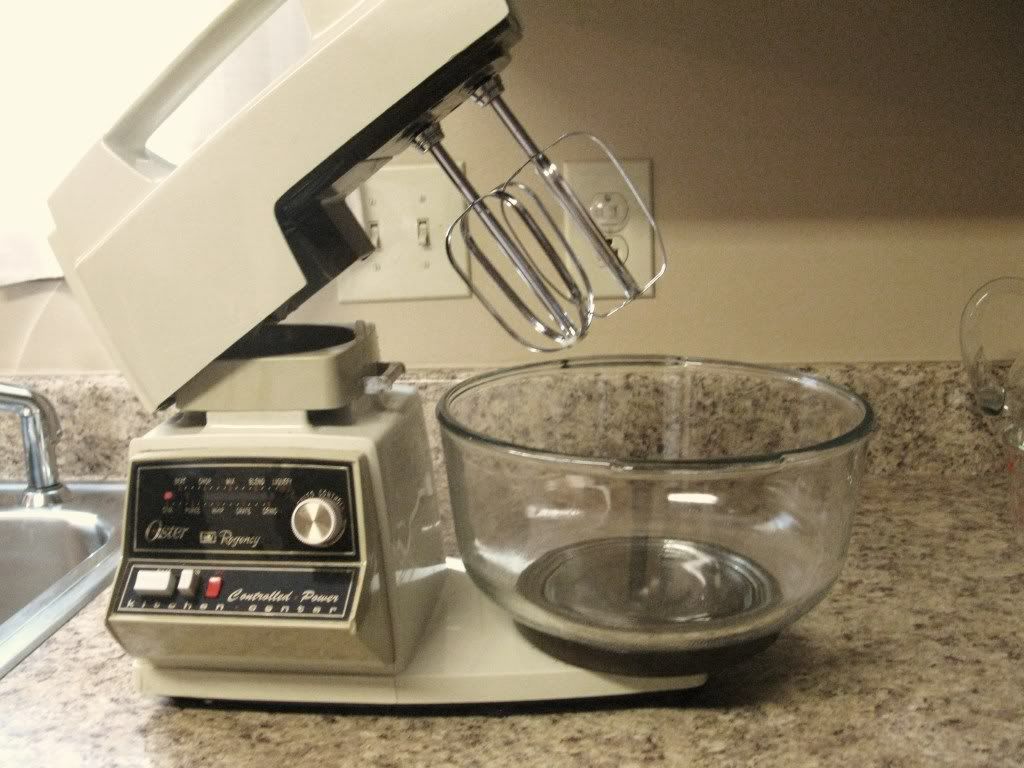 I'm sure you've noticed this beauty in the background of a few pictures before and you know you're jealous. Believe it or not, it's actually a step up from the green 1970's hand mixer I had previously owned.
A litte tip for you my friend:
Years ago someone told me that when mixing flour into batters, do it a cup at a time. This way it's a lot easier than mixing all 3 cups at a time. Not sure if this is the professional or even correct way, but it helps me. I'm a whimp and mixing 3 cups of flour all at one time makes my arm sore. Also, always check and make sure every ingredient has been used before doing your happy dance...just sayin'.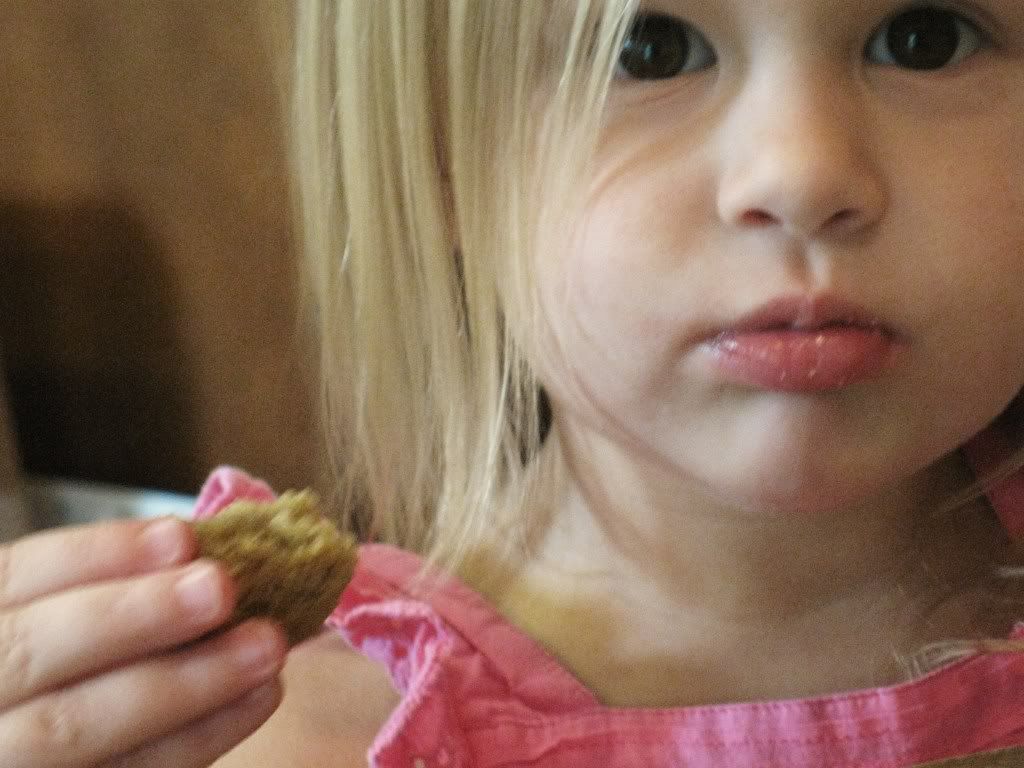 My little browned eyed taste tester.
In doing this little challenge, I've realized how much I love my kitchen! Thank-you, husband, for giving me such an awesome place to cook!
~Margaret